Skip to content
All News
27th July 2023
All in all, it's just (a few more) blocks in the wall!
Manston Investments' portfolio includes an ashlar block stone wall, which forms part of the boundary between our car park at St Helen's Court and the corner of North Street.
Of some considerable age, the wall has exhibited a degree of 'lean' towards the road and footpath, in fact it was 6" out of plumb, albeit proven stable by a structural engineer. There were also sections of severe degradation and spalling to extreme ends of the wall and slipping coping stones. Repairs over the years have comprised the use of cement mortar, which adversely affects the softer stone and accelerates its degradation.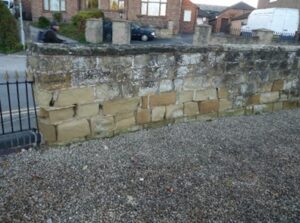 Degradation of lower sections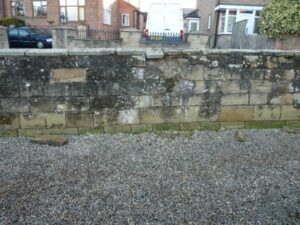 Slipped copings & missing stone
Manston have taken the decision to show the wall some TLC and invest, quite extensively, in its renovation.
Working closely with North West Leicestershire Senior Planner, Senior Conservation Officer and our stone mason, a comprehensive but sympathetic plan to carefully take down and rebuild the wall has been developed, allowing the decayed sections of stone to be replaced with new to closely match the existing, all using lime mortar.
Poorly detailed coping stones will be replaced with new stone copings to match the existing where necessary.
Not quite as simple as it looks, the works have been planned to align with school holidays to allow a footpath closure to be put in place, hopefully with a minimum of disruption, so that a safe working zone can be created for both the stone mason and the public.
The height of the wall and its proximity to the road necessitated Planning Permission to be sought in addition to the wall being in a Conservation area.
While we're aware that the work will be disruptive to pedestrians that use the footpath, we hope that people will bear with us while we carry out this work and restore the wall to it's former glory, not least to create a slightly wider footpath once the wall has been rebuilt plumb!
Thanks for bearing with us!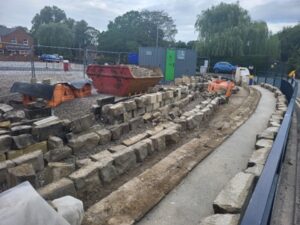 Work in progess